SYSUSA's CEO is speaking at E3 conference in Richmond, VA
SYSUSA
12 Jun , 2019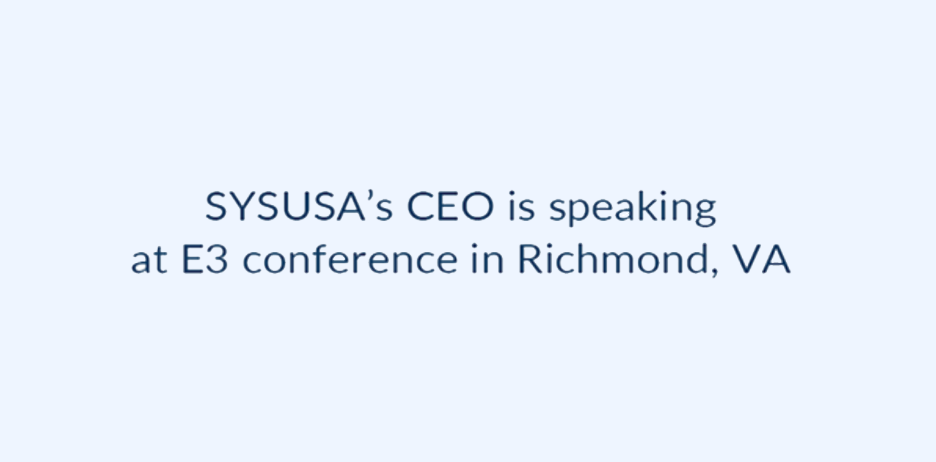 MANASSAS, VA – June14th, 2019 - SYSUSA. Inc. (www.sysusa.com), a leading provider of Technology Services and Solutions to both public and private sector, today announced that our CEO, Muneer Baig, is speaking at the 12th Entrepreneurship Export Exchange on the topic of Cybersecurity: What to worry about. Mr. Baig has vast years of experience in the field and is able to give detailed insight into current global threats and how to protect your business.
ABOUT E3:
The 12th Entrepreneurship Export Exchange will explore the latest trends and turbulence in taking technology global. Whether you are tech company or one that depends on technology, you won't want to miss some of the world's leading national security experts breaking down what you should worry about and where the next major opportunities are emerging. Attendees will get the global insights and intelligence needed to safely navigate your company through upheaval to success.
ABOUT SYSUSA:
SYSUSA, Inc., is an innovative technology solutions and services company specializing in Cyber-Security, Governance, Risk Management, and Compliance, Cloud Enablement, Big Data and Analytics, Agile and DevSecOps, Management Systems, Training and Certification, Managed Services, and Strategic Consulting Services.
SYSUSA has the necessary knowledge and global expertise to help 21st-century business enterprises to build, operate and maintain a secure, resilient, efficient, and high performing operating environment with low Total Cost of Ownership (TCO) and high Return on Investment (ROI).
Sign Up to Receive the Latest News and Insights From Us